Technology at a glance
AMiquam technology leverages more than 10 years of R&D efforts in the field of electromagnetic testing
EDDY CURRENT SENSOR
EC testing, one of several non-destructive testing methods, takes advantage of electromagnetism to detect flaws in conductive materials. A specially designed coil generates ac magnetic fields that interact with the test part and produce EC in the material.
SIMPLE TO INSTALL AND MACHINE AGNOSTIC
The AMiquam wireless module uses a wireless protocol to transfer the sensor data outside the machine. The module does not require wired power supply or data connection.
ELECTROMAGNETISM
The sensor is used to probe the electromagnetic response of the built part as described in the ASTM 1004 stadard. You can therefore monitor the stability of your AM process. The technique is differentiating in the sense that it probes the sublayers of the material contrarily to the surface sensitive or melt pool monitoring techniques.
PART DEFORMATION
The same sensors can be used to monitor the distance between the fabricated parts and the probe ("lift-off"). We demonstrated that this parameter is affected when process parameters are degraded and, therefore, it can be used to track process deviations. Contrarily to off-axis optical imaging, our measurements are not affected by the presence of powder.
In-situ NDT measurements
Have you ever dreamed to perform a direct electromagnetic measurement inside the machine during your fabrication without modifying the printed part or affecting the process productivity ? AMiquam wireless does it !

Installed on the recoater, the sensor scans multiple lines. The "non desctructive testing" produces a XZ-scan with a single probe. The more probes you have, the more 3D you are !
Each sample is represented in a specific region of the plane. After each recoating, the QC information is updated !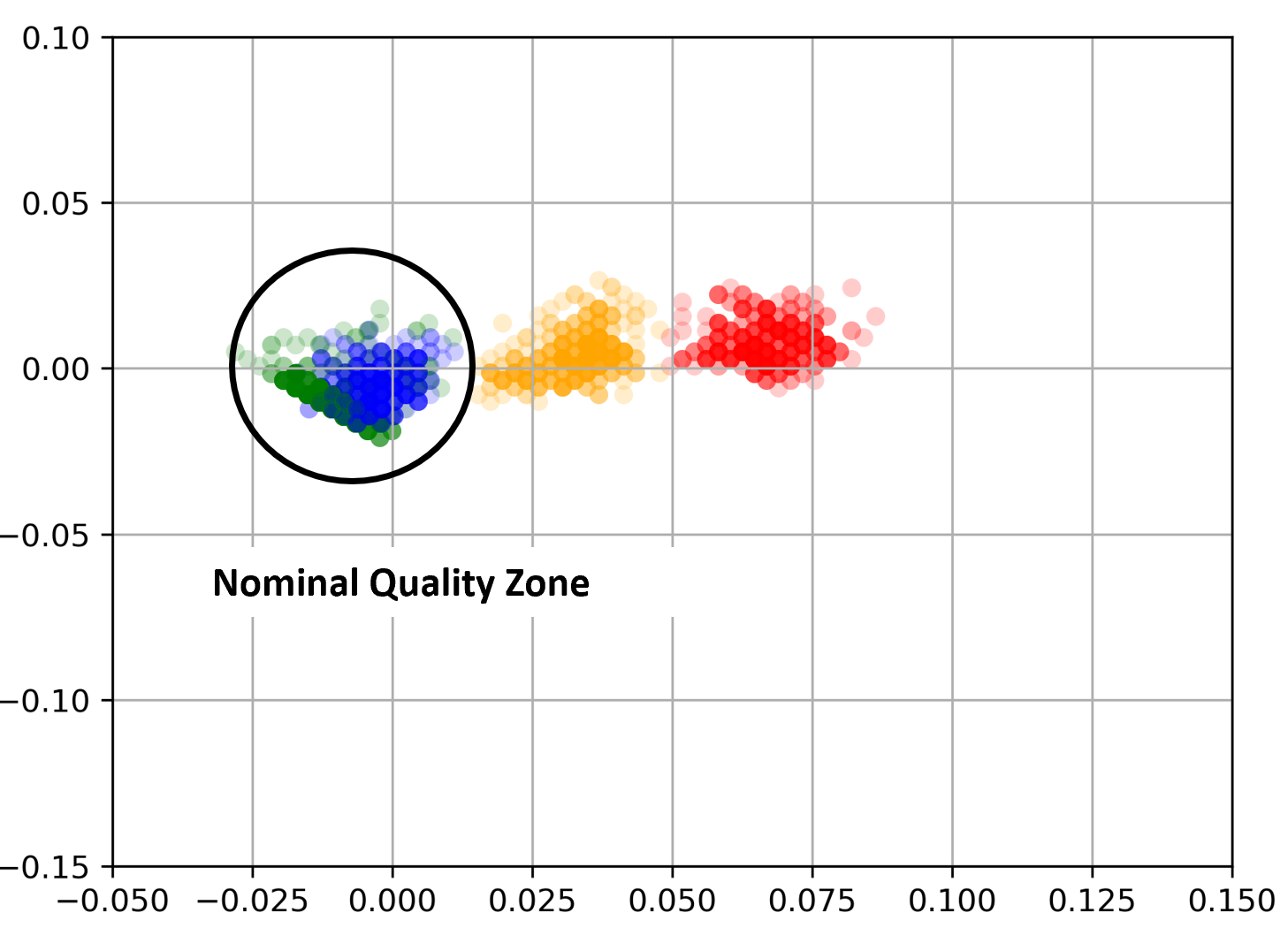 4 samples with different parameters. Blue and green values are the Nominal Quality Zone.
Performance
Our ambition :
Monitor every single part produced with metal Additive Manufacturing.

Be the next to monitor your parts
z-axis resolution
Data Transfer Rate
layers under the probe